In the Lab, in the Classroom and at Home!

Don't forget, you can also print with Glass and Ceramic,
Or have us make a custom 3D printing material just for you.
Filaments and pellets for 3D printing that make it easy – and affordable – to print Pure metal, ceramic and glass parts. The materials are Open Architecture – meaning they work in common, off-the-shelf 3D printers. No special hardware required.
YOUR SUCCESS IS OUR PRIORITY
As you get started, get as much or as little support as you need to make your application fully functional. We mean it when we say- Metal Printing Success, Guaranteed!
THE MATERIALS LIST IS CONSTANTLY GROWING.
Pure Silver is now in the Testing Phase. 99.9% Pure Silver Filamet™!
Along with adding new materials to the product list through internal development, you can also order new materials that meet your unique specifications. Need 3D printing filament with unique properties like piezoelectric, magnetic, conductive, graphene, multi-walled carbon-nanotubes? You got it. Our flexible manufacturing process lets us make nearly anything into a 3D printing material. Unleash your next ground-breaking Additive Manufacturing innovation!
---
NOT SURE WHERE TO START? CHECK OUT THESE PACKAGES THAT INCLUDE EVERYTHING YOU NEED TO GET STARTED.
---
Metal 3D Printing Filament
IF YOU CAN PRINT PLASTIC, YOU CAN MAKE PURE METAL PARTS.
IT'S THAT SIMPLE…
Our Bound Metal Filaments let common, low-cost FDM/FFF 3D Printers print pure Metal, Glass and Ceramic 3D parts.
PRINT * DEBIND * SINTER
All in common equipment. Use the FFF/FDM 3D printer and kiln you already have.
Filamet™ metal, glass and ceramic 3D printing filaments print on common 3D printers and debind & sinter in common kiln equipment. No special equipment required. Learn about the basics on the Getting Started page.
Custom Runs: In addition to our 14 Stock Filament Materials, The Virtual Foundry can make nearly any material into a 3D Printing Filament. Since we started in 2015 we've made custom filaments used for Bone Densitometer calibration, 3d printed Piezoelectric, Ferromagnetics, Electromagnetic cores, X-Ray Shielding, RF Shielding, Bone Phantoms, Radiation Apertures, Simulated Moon-Dust (moon dust is sinterable), Carbon-Fiber/Metal/Ceramic Composites, Peltier Devices (electro cooling) printed in-situ, Shaped Charge Demolition, Frangible Projectiles… far too many to list individually. If you have a concept, we can likely help you make it 3D Printable.
Advantages of 3D printing with Metal Filament:
Low barrier to entry
Minimal energy consumption
Low hardware costs
Ease of use
Mature technology (FFF)
Hardware flexibility – capability to customize printer
Safer solution – no chemicals in printing, no chemicals in debinding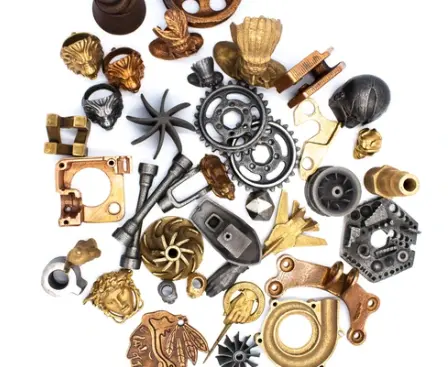 CUSTOM METAL FILAMENTS
WE OFFER A WIDE RANGE OF SPECIAL METAL FILAMENTS INCLUDING:
COBALT, IRON, NICKEL, AND TITANIUM.
We make every material 3D printable. Contact our sales team to learn more. Some limitations may apply.