3D Print Metal Parts with Common 3D Printers
3D Print Metal Parts in the Lab, Classroom or Studio.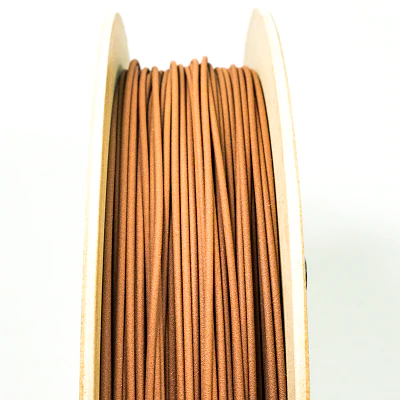 Getting Started is Simple, Just give us a call or drop us an email.
We'll work directly with you to assess your application and make certain you make informed decisions both before and after you start your Metal 3D Printing implementation. Our engineers work closely with our diverse range of customers in aerospace, science, medicine, radiation, manufacturing and nearly any other application you can think of. Our openness and accessibility is an important resource that sets us apart from other FDM Metal Printing solutions. Whether you need pre-sales consultation to make sure you make the best initial investment, or you are in the process of implementing your solution, we are standing by to make certain that your investment is a success. Give us a call at (608) 509-7146, send us an email at [email protected], or fill out this form and we will follow up.
The Virtual Foundry is a small company with high-profile customers. We're looking to make an indelible mark on the Metal 3D Printing technologies that we've shared, patented and continued to develop since 2014. Our growing collection of information on Printing and Sintering metal parts is quite literally an open-book. We publish all details of the process as they are realized or enhanced. There is a growing list of scholarly articles written about our materials and process. We continue to expand and enhance this library of detailed information. All information regarding Printing and Sintering our materials is Open-Architecture. All users are invited to research, experiment and improve any and all areas of this growing technology. Here are some of the Papers, Articles and other research about The Virtual Foundry.
Our filament and pellets for 3D printing that make it easy – and affordable – to print Pure metal, ceramic and glass parts.
All TVF products are are Open Architecture… they work in common, off-the-shelf 3D printers. No special hardware required.
Becoming a Customer of The Virtual Foundry gives you Direct access to our team of Educators and Engineers. We will help you develop and deploy an appropriate Metal 3D Printing Solution for your Lab, Classroom or Prototyping department.
---
We will provide as much or as little support as you need to make your application fully functional. Every customer gets access to our skilled team of educators and engineers. Even if you aren't sure where to start, or aren't sure if 3D Metal Printing is something you should be discussing. Just reach out and we'll help you through the discovery process.
What's Next for The Virtual Foundry? SILVER! Pure 3D Printable SILVER.
Since we opened our doors in 2015, people have been asking about Silver and other precious metals. As of July 20, 2022 we've made >35 unique materials/compounds/elements/etc into 3D Printing Filament. We'll have Silver Filamet™ available in August. Please reach out if you are interested in becoming an early adopter.
Custom Materials- You name it, we'll make it for you.
Along with adding new materials to the product list through internal development, you can also order new materials that meet your unique specifications. Need 3D printing filament with unique properties like piezoelectric, magnetic, conductive, graphene, multi-walled carbon-nanotubes? You got it. Our flexible manufacturing process lets us make nearly anything into a 3D printing material. Unleash your next ground-breaking Additive Manufacturing innovation!
Special Order and Custom Developed Filament.
We have a wide variety of Special Order materials that we can produce and deliver with minimal delay. In fact, any powder that's available for the various methods of Additive Manufacturing based on Powder-Bed and Powder-Bed-Fusion can easily be made into a 3d printing filament. Here's a list of materials from our metal powder partner, Praxair. https://shop.thevirtualfoundry.com/pages/special-order-materials
If none of these suit your needs, you can have us develop a completely custom solution for you. We've done this for nearly any material you can think of. Nano-tubes, moon-dust, piezo-electric, magnetics. For more information on a custom run, please start here: Custom Run PDF
---
---
Metal 3D Printing Filament
IF YOU CAN PRINT PLASTIC, YOU CAN MAKE PURE METAL PARTS.
IT'S THAT SIMPLE…
Our Bound Metal Filaments let common, low-cost FDM/FFF 3D Printers print pure Metal, Glass and Ceramic 3D parts.
PRINT * DEBIND * SINTER
All in common equipment. Use the FFF/FDM 3D printer and kiln you already have.
Filamet™ metal, glass and ceramic 3D printing filaments print on common 3D printers and debind & sinter in common kiln equipment. No special equipment required. Learn about the basics on the Getting Started page.
Custom Runs: In addition to our 14 Stock Filament Materials, The Virtual Foundry can make nearly any material into a 3D Printing Filament. Since we started in 2015 we've made custom filaments used for Bone Densitometer calibration, 3d printed Piezoelectric, Ferromagnetics, Electromagnetic cores, X-Ray Shielding, RF Shielding, Bone Phantoms, Radiation Apertures, Simulated Moon-Dust (moon dust is sinterable), Carbon-Fiber/Metal/Ceramic Composites, Peltier Devices (electro cooling) printed in-situ, Shaped Charge Demolition, Frangible Projectiles… far too many to list individually. If you have a concept, we can likely help you make it 3D Printable.
Advantages of 3D printing with Metal Filament:
Low barrier to entry
Minimal energy consumption
Low hardware costs
Ease of use
Mature technology (FFF)
Hardware flexibility – capability to customize printer
Safer solution – no chemicals in printing, no chemicals in debinding
We can make nearly any powdered material into a 3D Printable filament. Contact our sales team to learn more. Limitations may apply.